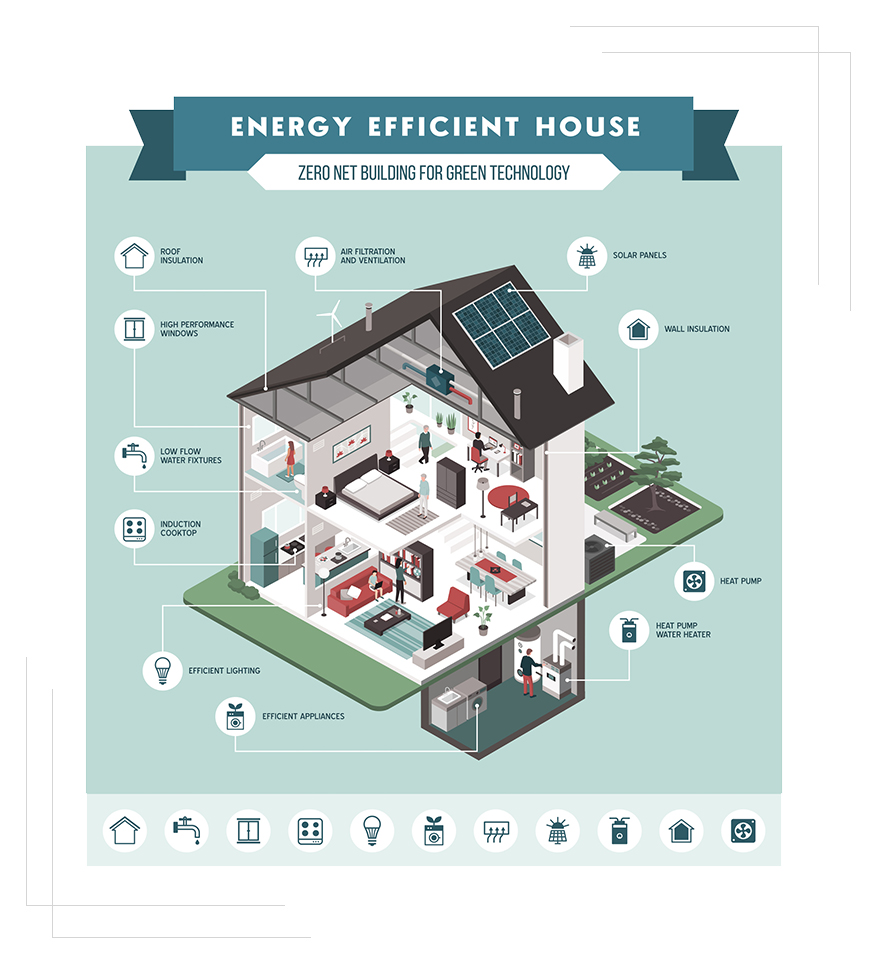 A Net-Zero Energy home essentially Sustains itself
A net-zero energy home produces as much renewable energy as it consumes over the course of a year, allowing the homeowner with a net zero energy bill, and a carbon-free home.
A zero-energy home is more than a "green home" or a home with renewable energy. A zero-energy home integrates advanced design and superior building systems with energy efficiency and on-site solar panels to build an optimal home.
Net-Zero energy homes are ultra-comfortable, quiet, healthy, sustainable homes that are affordable to live in.
Net-Zero Energy Homes are Healthier, Comfortable Homes
A home is a place of comfort, a gathering place for family and friends, and a retreat for the family. A zero-energy home provides a healthy environment in which to live. Because net-zero energy homes are built to a higher standard, ensures excellent clean air, feel the most comfortable temperatures, and enjoy a quiet indoor environment.
Net-Zero Energy Homes Save You Money
From day one, and for as long as you own the home, the total cost of living in a zero-energy home is lower than that of a comparable conventional home. A zero-energy home shields the homeowner from increases in energy prices. Whether it is Five or Thirty years from now, the cost paid to keep the lights on and the home warm, will be zero or next to zero.
Net-Zero Energy Home Certification
Look for a net-zero energy or net-zero energy ready home that has been certified by a third party organization. Some of the leading certifications are from the Department of Energy's Zero Energy Ready Certification, the Living Building Challenge Zero Energy Certification, Passive House Certification, Zero Energy Ready Certification, and LEED Zero
Buyer Benefits
Lower Cost of Home Ownership
The zero-energy home has no monthly cost, except that of a small monthly connection fee. Therefore, the net-zero energy home costs less than a similar conventional home as it does not pay standard energy costs to the utility company.
Clean Renewable Energy
The energy used in a net-zero energy home is created from clean, renewable energy from the solar panels on the roof.
Exceptional Healthy Indoor Air
Constructed with airtight walls, zero-energy homes integrate extremely energy efficient air systems. These advanced air systems provide pre-heated or pre-cooled fresh, filtered air -that prevent outside allergens and pollutants, thus providing a healthy indoor home environment. Additionally, zero-energy homes are built with non-toxic materials, surfaces, and finishes, along with advanced fresh air systems.
Water Savings
Net-Zero energy homes are built with energy and water saving dishwashers, washing machines, and toilets that utilize 'water sense' controls on showers and faucets to reduce water costs and energy in the home.
A Durable Home
The building standards and materials used to construct a zero-energy home provide more durability than a conventional home, thus the net-zero energy home lasts longer and the home's maintenance in reduced.
Peace and Quiet
The net-zero energy home has exceptional insulated walls, triple-pane windows, and constructed to be airtight. The beneficial result is a home that is quiet and relaxing, with no outside noise.
Natural Daylight
Natural daylight homes integrate architectural design with seasonal sun-path variations. What this means is a home with no glare and optimized daylight, maximum views from windows, free heating and cooling, radiant comfort, and natural breezes.
A Higher Resale Value
The certified net-zero energy home durability, exceptional energy efficiency and advanced technologies are all assessed and factored in, when you plan to sell your net-zero energy home, most often will retain a higher resale value.