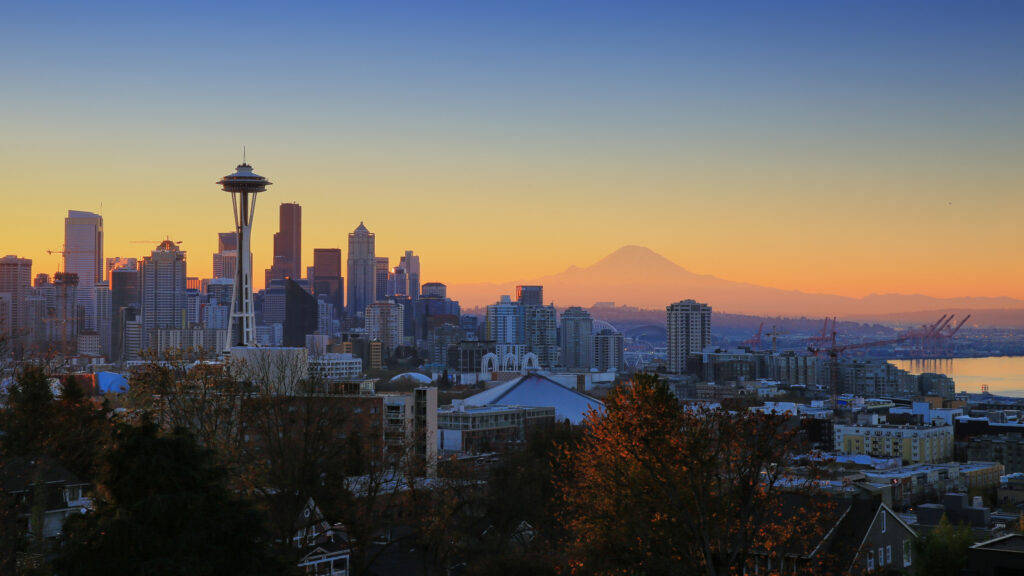 With the Pacific Ocean to its west and magnificent mountain ranges dotting its landscape, the Northwest is the stuff of dreams. Blessed with plenty of rainfall and pleasant summers all year round, the region boasts of lush and dense forests where you'll find some of the most extensive and diverse ecosystems in the world.
Life in the Pacific Northwest is centered on the enjoyment and preservation of the great outdoors. Whether it's hiking, skiing, mountaineering or kayaking, there's a variety of outdoor activities to be had. 
Some top attractions in the Pacific Northwest:
Mount Rainier –

A day trip or a multi-day hike around Mount Rainier is a quintessential part of the Pacific Northwest experience. This 14,410 foot sleeping volcano is an iconic landmark of the state of Washington and is frequently visited by tourists all year round.




Puget Sound –Discover the many islands in the Puget Sound. Take a ferry to the biggest one, Whidbey Island, and spend your days riding horses, relaxing by the water, or camping. Festival lovers may appreciate Fidalgo Island, where the lively Spring Wine Festival is held every April.


Alpine Lakes Wilderness

– This sprawling 394,000-acre landscape is home to 615 miles of trails, plus 700 lakes and ponds. Challenging routes will put hikers' skills to the test to be rewarded with breathtaking mountain vistas. Simply put, this is an adventure seeker's paradise.




Olympic National Forest – Perfect for backpacking trips or short hikes, visitors will get the opportunity to experience a rare temperate forest environment.

Food and culture are also focal points. Savory dishes are made from only the best locally sourced ingredients. For starters, check out Aerlume, Spinasse, and Marmite. Award-winning wineries and microbreweries, like Chateau Ste. Michelle Winery  and Snoqualmie Falls Brewery  are found all over the region. 
What's more, some of the most influential figures in music and the arts first cultivated their talents in cities like Seattle and Portland. Book tickets to much-awaited festivals and events such as the Bumbershoot  and the Seattle Chamber Music Winter & Summer Festival.
Whether you're looking for a bit of adventure, inspiration or calm, you'll find it all here in the Pacific Northwest. 
Where economic prosperity meets sustainability
The largest city in the Northwest, Seattle brims with vibrant cultural attractions, top-tier universities, picturesque parks, and a fast-growing tech sector, effortlessly merging urban ingenuity with the natural environment. A wide selection of luxury condos, expansive waterfront properties, and hilltop enclaves are spread throughout the city.
A few sought-after communities in and around Seattle: 
Madison Park –

Facing the crystal blue waters of Lake Washington is the upscale neighborhood of Madison Park. This enclave offers prospective buyers a relaxing environment and highly convenient location. As you take in the views and the atmosphere of your gorgeous lakefront home, you're just minutes away from Seattle's best restaurants, retail establishments, and laid-back hangouts.




Greater Eastside –The Eastside area is where you'll find suburbs and neighborhoods that are directly witnessing the continued growth of the tech industry. Cities and towns like Issaquah , Bellevue, and Kirkland generate plenty of gainful job opportunities courtesy of big names like Google and Microsoft. But don't let all the urban infrastructure fool you. There's no shortage of spacious parks, verdant forests, and awe-inspiring waterfront views.